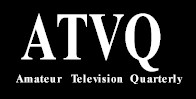 Amateur Television Quarterly (ATVQ) is a one-of-a-kind publication for hams who are interested in
sending and receiving their own television signals. Amateur Television (ATV) is a lot of fun!

Have you heard about using ATV while hang gliding, hot air ballooning, or for public service events?
How about ATV in the payload of a helium balloon at a hundred thousand feet, sending video showing
the earth's curvature?

If not, then you need to subscribe to ATVQ and find out what you've been missing.

For a little history behind ATVQ and the Amateur Television publications that preceeded it, we have provided a link to an article by Henry Ruh (KB9FO) that appeared in the April 1991, Vol. 4 #2 issue of Amateur Television Quarterly.


Home | Welcome | Certificates and ID Screens | ATV-DX
Subscribe | Past Issues | ATV Secrets
Best of Beasley | Links | Advertisers | Contact Us

© Copyright 2008-2017 - Amateur Television Quarterly